Vous cherchez quoi ?
his year's Eurimages co-production award, an award acknowledging the decisive role of co-productions in fostering international exchange, pays tribute to a woman's contribution to the success of film co-production.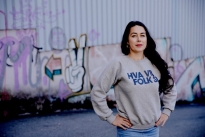 In 2011, she founded the production company Mer Film, which celebrates its 10th anniversary this year. In these ten years, Ekerhovd has been the delegate producer on ten feature films, as well as many co-productions, a number of which have been supported by Eurimages. Maria Ekerhovd is a Norwegian film producer from Bergen. One of Ekerhovd's first films as producer, Bobbie Peers' 2006 short film "Sniffer", won Norway's first (and so far only) Palme d'Or at Cannes Film Festival, also nominated for the European Film Awards.
In 2013, Ekerhovd was awarded the Edith Carlmar Prize, which is presented every year at the Femmina Film Festival to "a professional film woman who has shown integrity, fearlessness of innovation and willingness to break boundaries".
Her latest film is the Eurimages-supported co-production "The Innocents" by Eskil Vogt, which premiered in Un Certain Regard at the 2021 Cannes Film Festival. The film received the European Film Award for Best Sound in 2021 announced last week.  
Maria Ekerhovd is also the Norwegian co-producer on Jonas Poher Rasmussen's "Flee", EFA-nominated for best documentary and animated feature this year.
She is currently in production with the historical drama "War Sailors" by Gunnar Vikene (which is to date, Norway's largest film production) and "Let the River Flow" by Ole Giæver. Next year will also see the release of the film "More Than Ever" by Emily Atef, a co-production supported by Eurimages.
Her production company Mer Film's ambition is to produce Norwegian and international art-house films by directors with a personal artistic vision. Mer Film believes in long term relationships with directors and co – producing partners and in 2015 the company expanded its mission by founding Mer Filmdistribusjon, a distribution company which works closely with the production company.

The Eurimages Co-production Award will be presented during the European Film Awards ceremony on Saturday, 11 December, in Berlin.
Since it was set up in 1988, EURIMAGES has supported 2 236 co-productions for a total amount of approximately 640 million euros.
Permission de ce forum:
Vous
ne pouvez pas
répondre aux sujets dans ce forum